Summer may be winding down but fall is a wonderful time to travel! When it comes to taking a vacation, the last thing you want to do is over-schedule your time off, and end up coming back needing a vacation from your vacation. While you may not want a jam-packed itinerary, you will want to take in some of the sites, and make a loose plan with room for spontaneity! Here are my 5 tips for taking the stress out of planning your vacation.
Research
Don't panic – I'm talking about some leisurely scrolling here. You don't have to rush to your local book store and drop a stack of money on travel guides (unless you want to – I personally love them!) You also don't need to spend time deep-diving online, but some light research will definitely make for a smoother vacation when the time comes. There are plenty of regional tourism sites, and blogs full of the must see, must do, must eat spots for just about every square inch of the planet. Google the city/province/state you're heading to and see what pops up. It's also good to know ahead of time if places you want to go are closed certain days of the week.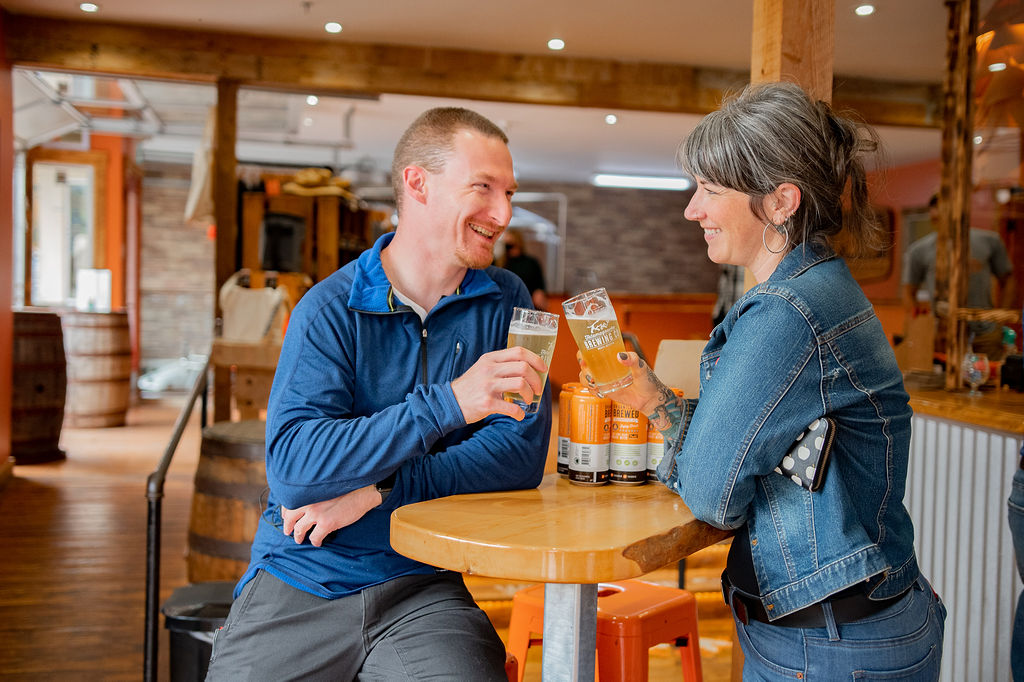 For example, we went to PEI last month for a 5 day getaway and we desperately needed to unplug and unwind, so I didn't want to schedule us a lot of activities. By googling 'things to do in PEI', I got a 'What do do in PEI' tourism site, a '15 best things to do' travel review site, and 'Top 10 Attractions'. There are more specific pages like 'best places to eat', or 'best beaches to visit' – it just depends on what you're looking for. I could easily sift through these sites and make a note of places we might like to take in.
Make a list
Now that you've done some research, make a list of all the places you'd like to see, or the activities you'd like to do. I like to do this on the Notes App in my phone so I can easily add to it and I always have it on me. Once you have your list, which you can continually add to as you go, group those places or activities by area. For example, going back to our PEI getaway, I put everything that was in Charlottetown on a list together, everything that was in the western part of the province together. This way, whatever day we decided we were going to spend in Charlottetown, we already have a list of things we'd like to do in that area. It save time figuring out what to do, and leads in to a much smoother day.
Check the Forecast
The last thing you want is to have a week of outdoor activities on your radar only for it to call for rain or high winds the entire time! Check the weather a week ahead and see what it's calling for. Obviously, you'll want to check it again a few days before you leave but hopefully this gives you a base to get a rough idea. Have some inside activities on your list in case the weather is unfavourable, and you want to get out of your hotel room!
Tickets & Food Reservations
This is a harder paragraph for those who don't like to plan. If you want to hit up certain restaurants when you're traveling, it's always best to make a reservation. There's nothing worse than when the time to eat comes and you can't get in anywhere (where my hangry folks at?!). Where I'm going to eat when I'm travelling is important to me because I'm a food-driven human. As soon as I book a plane ticket, or time in my schedule, my second step is to make restaurant reservations!
If you're worried about tying yourself down with a reservation when you may have other plans that day and don't want to rush, opt for a later dinner than usual. Or if you're really opposed to scheduling anything in advance, check out the restaurants you like that may use apps like Waiting List, or take walk ins. Lots of times busy restaurants have seating available at the bar where you can also eat. When I travel solo, this is my go-to option. There's usually a great view of the kitchen (where all the action is), and the bar staff are always lovely and chatty which is great dinner company.
Leave Time for Spontaneous Adventure
One of my favourite parts of a vacation is the lack of schedule. I rarely have free time to do anything between scheduled appointments in my daily life. If we're driving to a destination and see a shop or cafe we want to stop at, I want to have the time to do that. If we see a field full of beautiful flowers or a scenic coastal view, make sure you have time to pull over and take pictures! Allow yourself room to explore the place you're visiting as you go. If you do have a loose schedule in place for the day, you can double the travel time for example. If it takes one hour to get there, give yourself two hours before the next thing that may be on your list.
Just Enjoy Yourself
Just because you made a list doesn't mean you've committed to everything on it. Maybe you're heading to an area where you have a list of fifteen places you'd like to see. You might do three of them and that's enough. By having a list of potential things to see or do, you're saving yourself precious vacation time by not having to figure out where you may want to go, where that is and are they open.
There are no rules for how your vacation has to go. By taking the time to do some research and make lists if you want them, you can use your list as a guideline, or a safety net if you're stuck for ideas, or have an indecisive bunch.
I hope these 5 tips that take the stress out of planning your vacation are helpful the next time you're looking to get out of dodge. If you've got your own vacation planning hack, shoot me an email! I'd love to hear them! Until then, happy travelling!